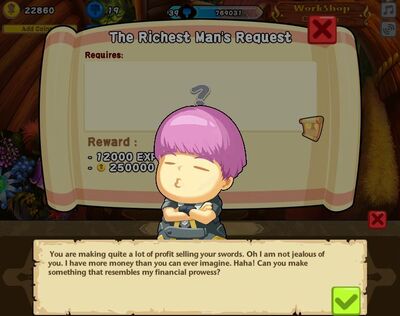 Requirement:Edit
Earn 200,000 total coins, thus getting the seal.
Description:Edit
"You are making quite a lot of profit selling your swords. Oh I am not jealous of you, I have more money than you can imagine Haha! Can you make a sword that matches my financial prowess?"
Sword Required:Edit
The Gold Cannon - Fuse 3 Ka-Ching
Completion:Edit
"Magnificent! This is truly a magnificent art piece! Thanks buddy! I really like this! Interestingly, this man appears to be the same man running the roulette.                                                                                                                                                                                                                                                                                         
Ad blocker interference detected!
Wikia is a free-to-use site that makes money from advertising. We have a modified experience for viewers using ad blockers

Wikia is not accessible if you've made further modifications. Remove the custom ad blocker rule(s) and the page will load as expected.