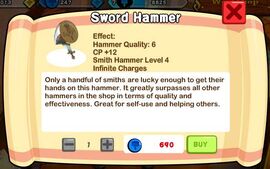 A very stylish hammer. Only a handful of crafters are lucky enough to get their hands on this hammer. It's rumored to have been handmade by an ancient smith tribe in the far east. Higher critical chance.

Price. 690 Smith Tokens
Effect: Standard Hammer
+6 Quality
+12 CP
As a side note, this is a very expensive hammer. It would be wise to attempt to gain access to the Divine Hammer (which is actually better) and work with your Master or Platinum Hammer until then.
Ad blocker interference detected!
Wikia is a free-to-use site that makes money from advertising. We have a modified experience for viewers using ad blockers

Wikia is not accessible if you've made further modifications. Remove the custom ad blocker rule(s) and the page will load as expected.