A Sobrevivência do Mais Apto é uma espada de 6 estrelas, de Rank A lendária e é forjada usando
Cobre
. É criada a partir da fusão de 3
Predadoras
, é vendida por 10580 moedas; um lucro de 10280 moedas retirando o custo dos materiais, e um lucro de 6530 sobre a venda de 3
Predadoras
separadamente.
Como todas as espadas lendárias, a Sobrevivência do Mais Apto tem uma página de mangá que pode ser vista depois de salvar a espada na sua coleção.
(Possível Enredo 1) Nesta cena, vemos um guerreiro tribal de aparência forte vagando pela selva, adornado com muitas tatuagens e muitos músculos. É um pouco estranho. Então, na última cena aparece ele com uma aparência frenética e desesperada tentando dizer algo para a pessoa à sua frente, com a Sobrevivência do Mais Apto. Sua condição não tem nada a ver com o objeto metálico na cena 2, uma inspecção mais aprofundada revela que seja o que for, está sendo realizado pelo homem com cabelo branco no último painel. Portanto, a conclusão pode ser que o guerreiro da selva já havia sido enfraquecido e apenas correu para fora quando ele finalmente encontrou alguém para se apoiar. Como muitos mangás, até que uma explicação oficial de Doremi Star seja iberada, isto continuará a ser um mistério. (Possível Enredo 2) A Sobrevivência do Mais Apto tem sido transmitida ao campeão tribal geração por geração. Ou deixada, guardando, ou a entrada de um templo ou a vila, o campeão tribal fica cara a cara com um estranho ou desafiante, como mostrado pela cena 2, onde você pode ver um objeto metálico. Geralmente em anime/ quadrinhos isso é mostrado para ser a arma de outra pessoa. A cena 4 mostra sua luta para vencer e sobreviver como o único que pode possuir a lâmina.
Anexo - AP:13 DP:2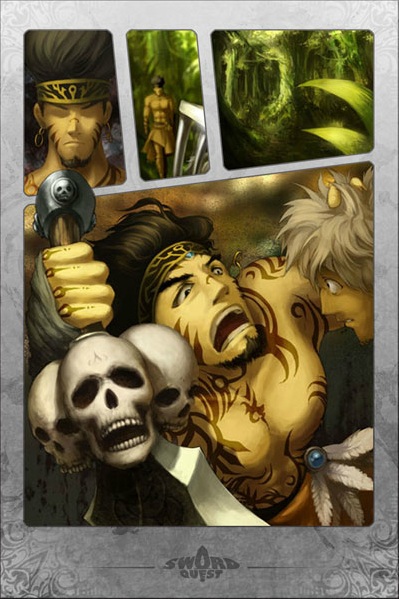 Ad blocker interference detected!
Wikia is a free-to-use site that makes money from advertising. We have a modified experience for viewers using ad blockers

Wikia is not accessible if you've made further modifications. Remove the custom ad blocker rule(s) and the page will load as expected.