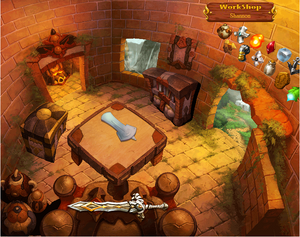 This is Shangri-La, the 11th Decor set that you can purchase.  As you can see from the window, this appears to be located in valley of some type.
It is meant to be seen as peaceful, tranquil, and away from all of the bustle and pressure of the everyday world.  Here you can relax and enjoy your craft.  A paradise of sorts.
If you wish to know more about Shangri-La, just follow the link.
Workshop: 20,000
Chest:  15,000
Bookshelf:  11,500
Tables:  40,000
Background:  35,000
House: 60,000
Trophy: 35.000
Total Cost: 215.500Edit
Trophy Bonus: +5 Quality to Adamantite Edit