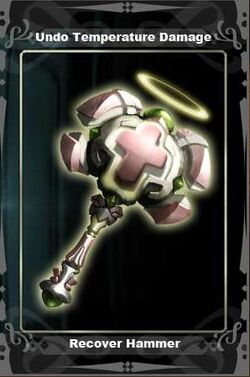 Obtained by:Edit
Undo any penalties on a sword. Self Use Only
Description:Edit
"This hammer can heal any temperature damage done to a sword. Whether it be Burnt or Froze, just hit your damaged sword once and it will be back to its perfect condition. Can only be used in the finishing phase or after the sword is finished."
Ad blocker interference detected!
Wikia is a free-to-use site that makes money from advertising. We have a modified experience for viewers using ad blockers

Wikia is not accessible if you've made further modifications. Remove the custom ad blocker rule(s) and the page will load as expected.