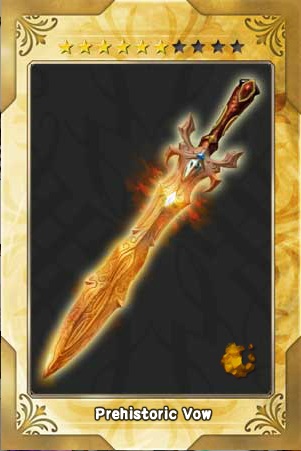 A Promessa Pré-Histórica é uma espada de elemento terra, 6 estrelas, lendária de rank A e é forjada usando
Cobre
. É criada a partir da fusão de 3
Espada Antigas
, é vendida por 11,880 moedas;um lucro de 11500 moedas retirando o custo dos materiais e um lucro de 6780 sobre a venda de 3
Espada Antigas
separadamente.
Uma Promessa Pré-Histórica também é dada como prêmio por completar o tutorial.
Como todas as espadas lendárias, a Promessa Pré-Histórica tem uma página de mangá que pode ser vista depois de salvar a espada na sua coleção.Nesta página, vemos um mago chegando a um monolito de pedra no meio de uma tempestade de neve. Usando magia, o mago desenterra a Promessa Pré-Histórica da pedra. A forma como o mago descobriu que uma espada estaria ali é desconhecida, mas após nova inspeção, vemos que o mago está carregando uma bainha vazia, o que poderia  indicar o fato de que a espada pertence ao mago, que a escondeu ali por razões desconhecidas. Alternativamente, o mago poderia ter sido informado da presença da lâmina, e simplesmente veio preparado. Até agora, não há nenhuma explicação oficial da Doremi Star, então a história de fundo por trás dessa cena é de interpretação pessoal do leitor.
Outra teoria é que a Promessa Pré-Histórica é uma espada criada apenas para aquele homem. O homem que sabe a localização, a forma de obtê-la e a magia certa para extrair-la. O propósito daquela espada é um mistério.
Anexo - AP:11 DP:3
Ad blocker interference detected!
Wikia is a free-to-use site that makes money from advertising. We have a modified experience for viewers using ad blockers

Wikia is not accessible if you've made further modifications. Remove the custom ad blocker rule(s) and the page will load as expected.