Pedra Sagrada

Preço

10600~16400

Minérios Necessários

3xPedra Sagrada, 1xHyper Aço MA

Espaço

9 mesas em 3x3

Tempo de Criação

12 horas

Espaço para Fusão

9 mesas em 3x3

Tempo de Fusão

30 Horas

Qualidade Mínima

24

Experiência ao martelar

+40 Exp

Bônus de Troféu

Céu: +5 Qualidade
Pedra Sagrada é o 19º material disponível no mercado. Custa 12 tokens ou ~15000 moedas no mercado negro.Pedra Sagrada pode ser obtida em baus de minério nível 4 e no bônus diário.Sendo um minério raro de nível 4 Pedra Sagrada é um premio muito raro na "Friend Wheel". 
Como qualquer outro material raro encontrado no Mercado Negro, fazer lucro com ele não vai acontecer.Lucro pode ser conseguido por recompensas de Missões (Quests) e usando materiais obtidos com Tokens de graça. 
Crie espadas de Pedra Sagrada para completar Quests,Coleções e combinar com Metal Divino. 
Todas as Espadas Sagradas tem o atributo Sagrado.
Maneiras de obter:
Comprando na Loja: 12 Tokens
Mercado Negro: Maximo:15,000 Moedas
Chance Aleatória nos locais:
Maneiras de obter Maestria:
Skyland:Penhasco Brilhante(#3 no mapa)

Lista de Espadas
Edit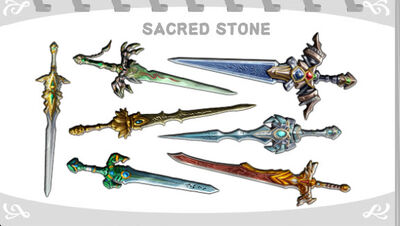 Lista de Espadas Mestras
Edit
Pedra Sagrada combinada com

: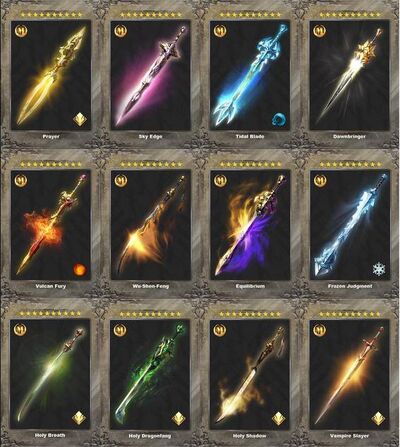 Ad blocker interference detected!
Wikia is a free-to-use site that makes money from advertising. We have a modified experience for viewers using ad blockers

Wikia is not accessible if you've made further modifications. Remove the custom ad blocker rule(s) and the page will load as expected.