Pedra Demoníaca

Preço

12 Tokens or 10,500~16,000 Moedas

Minério Necessário

3xPedra Demoniaca, 1xHyper Aço MA

Espaço na Mesa

9 Mesas in 3x3

Tempo de criação

10 Horas

Espaço de Fusão

9 Mesas in 3x3

Tempo de Fusão

90 minutes, 44 horas, 90 minutes

Qualidade Mínima

24

Expêriencia de martelar:

+40 Exp

Bônus de Troféu

Inferno: +5 Quality
Pedra Demoníaca é o 20º material disonível no mercado. Custa 12 tokens ou 10,500~16,000 moedas para comprar no mercado negro. Ele pode ser ganho nos baús de minérios nível 4 das roletas diárias e de amigos. Sendo uma pedra nível 4, Pedra Demoníaca é um prêmio bem raro.
Como qualquer material raro encontrado no mercado negro, Tentar fazer lucro com ela não vai funcionar. Você só vai conseguir um lucro das recompensas de missões e materiais obtidos gratuitamente.
Forjar com Pedras Demoníacas vai desbloquear certas coisas e completar certas missões, pode-se usar com Metal Divino, e terminar as páginas de coleta.
Todos as espadas feitas com este minério tem o atributo "Demoníaco".
Meios de obter:
Meios de obter Maestria:
Hellgate:Village of Demonic Weaponry(#7)

Lista de Espadas
Edit
Lista de Espadas Mestras
Edit
Pedra Demoníaca combinada com: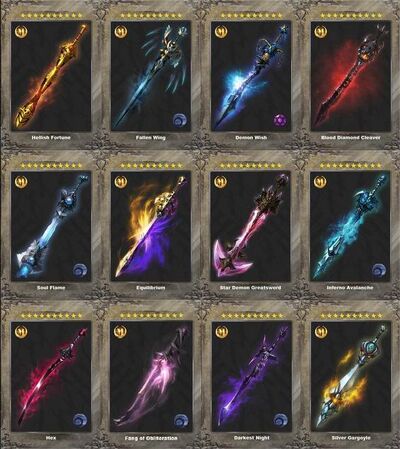 Ad blocker interference detected!
Wikia is a free-to-use site that makes money from advertising. We have a modified experience for viewers using ad blockers

Wikia is not accessible if you've made further modifications. Remove the custom ad blocker rule(s) and the page will load as expected.