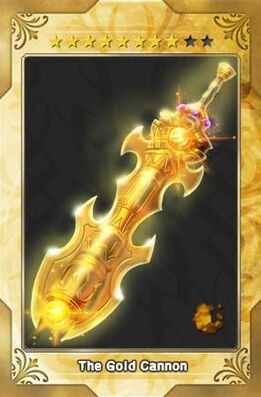 Meio arma, meio espada, trabalhada toda artísticamente, é
O Canhão de Ouro
! Essa "espada" é lendária e de 8 estrelas. Tem o elemento Terra.
Fundindo 3 Ka-Ching, você cria essa monstruosidade. Pode ser vendida por 50,000 moedas.
O Canhão de Ouro é usado para completa a missão O Pedido do Homem Mais Rico.
AP:30 DP:7

Esta página de mangá mostra uma enorme porta, presumindo que é muito resistente. Dois viajantes chegam até ela. A pessoa de cabelos roxo parecem ser a mesma pessoa que pediu ao jogador para criar o Canhão de Ouro.
Ao ver o quão grande é a porta, a pessoa de cabelos roxo diz ao homem de cabelos loiros para trazê-lo para fora. Quando ele dispara, você pode ver, talvez não um buraco, mas, pelo menos, pedaços da porta voando distante quando o Canhão de Ouro a destrói.
Ad blocker interference detected!
Wikia is a free-to-use site that makes money from advertising. We have a modified experience for viewers using ad blockers

Wikia is not accessible if you've made further modifications. Remove the custom ad blocker rule(s) and the page will load as expected.