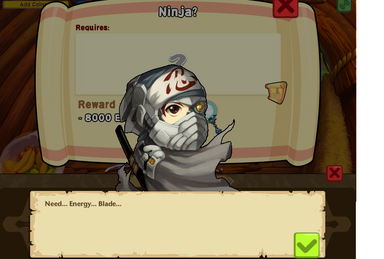 Requirement:Edit
Save 8 swords from Tamahagane into your collection.
Description:Edit
"Need...Energy...Blade..."
Sword Required:Edit
Zero Type - Fuse 3 Kiku-Ichimonji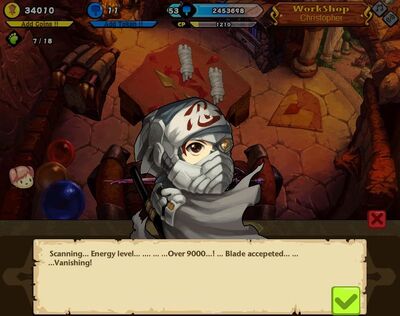 Completion:Edit
"Scanning ... Energy level ... ... ... Over 9000.. ! ...Blade accepted... ... ... Vanishing!"
Note*  The Ninja's speech appears to be a reference to Dragon Ball Z.
Ad blocker interference detected!
Wikia is a free-to-use site that makes money from advertising. We have a modified experience for viewers using ad blockers

Wikia is not accessible if you've made further modifications. Remove the custom ad blocker rule(s) and the page will load as expected.