Metal Divino

Preco

60 Tokens from Shop

Minério Necessário

1 Divino & 3 Mas

Espaço na Mesa

9 Mesas

Tempo de criação

16 horas

Espaço de Fusão

9 Mesas em 3x3

Tempo de Fusão

40 horas

Qualidade Mínima

6

Expêriencia de martelar

? Exp

Bônus de Troféu

Pantheon: +5 Qualidade
Metal Divino é o material mais valioso no jogo, sendo impossível comprar com moedas e custando consideráveis 60 smith tokens na loja (aproximadamente US $ 6,10). Leva nove slots de mesa e um total combinado de 16 horas para forjar este material.
Forjando Metal Divino não sofre penalidades de qualidade, devido ao fato de que a maioria dos seres humanos, eventualmente, precisa ir trabalhar, dormir, ou ter uma vida social. Na realidade, porém, não importa. A forma como um Metal Divino é feito é pela fusão de um Metal Divino com qualquer 3 de um metal raro, ou Hyper Aço MA, e é isso. O resultado é garantido. Queimado, congelado, independentemente, cada espada listada abaixo será sempre o resultado, dependendo do material que você usar.
Ou seja, Ouro Divino sempre será dado a você, mesmo com 0 de qualidade, se você usar 3 Ouros.
O outro lado da moeda é que é preciso para completar a coleção. Você precisa de quatro Metal Divino para cada elemento raro. Isso significa que, você precisa de 56 Metais Divinos. Como dito acima, você não pode comprá-los no mercado negro. Então, a menos que esteja disposto a pagar tokens, você tem que obtê-los de outras maneiras. Veja como! A partir da conclusão total dos Selos, você obtem um para cada selo. Há 19 selos no total. Assim, 19 Metal Divino vêm a partir daí. (Embora dois deles são baseados em sua elaboração divina. 1 para a elaboração de 30 Espadas Divinas, um para a elaboração de 10 Fusões Divinas). Completando missões especiais: 15. Embora, mais uma vez dois deles exigem que você use uma Espada Divina. Mas! Eles dão mais do que necessita. Então, você ainda vai ganhar mais do que o que você perdeu. Agora estamos em 35 Metais Divinos.
Das Coleções: Cada vez que você completar uma página de coleção, você receberá um Metal Divino. Há possíveis 19 (materiais), 4 (páginas metal divino!) E 5 (6 no futuro) Materiais de aventura. Assim, um total atual de 28!
Por isso, é possível obter cada Metal Divino que você precisa para criar cada Espada Divina se você fizer com inteligência.

Para tentar a fusão divina, você precisa de Nível 2 maestria em Metal Divino, e as três espadas divinas idênticos que deseja fundir em uma espada Matadora-de-Deuses.

Espadas Divinas Normais
Edit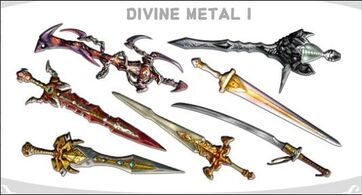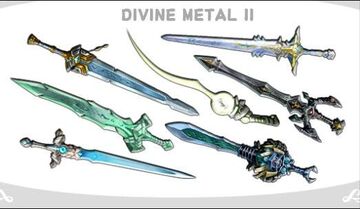 God-slaying Swords
Edit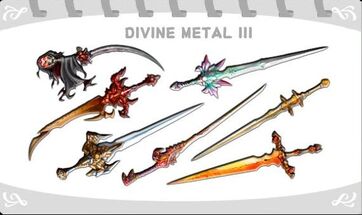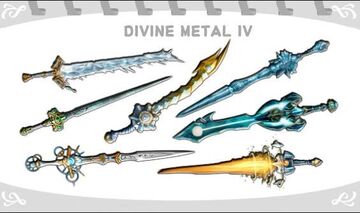 Ad blocker interference detected!
Wikia is a free-to-use site that makes money from advertising. We have a modified experience for viewers using ad blockers

Wikia is not accessible if you've made further modifications. Remove the custom ad blocker rule(s) and the page will load as expected.