Requirement:Edit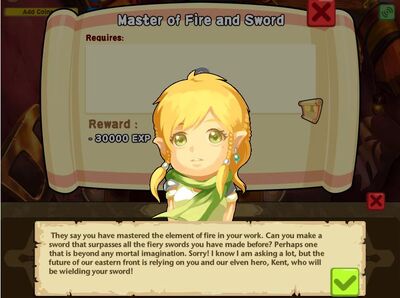 Lvl 2 of mastery in Fire Stone
Description:Edit
They say you have mastered the element of fire in your work. Can you make a sword that surpasses all the fiery swords you have made before? Perhaps one that is beyond any mortal imagination. Sorry! I know I am asking a lot, but the future of our eastern front is relying on you and our elven hero, Kent, who will be wielding your sword!
Sword Required:Edit
Sword of the Fire God - Craft 1 Divine Fire Sword
Completion:Edit
"Wow! I can't believe you managed to not only meet, but surpass my expectation! Maybe we can really win the war against the demons! I cannot thank you enough for your great deed. These divine stones have been passed down from our ancestors. Please take them!"