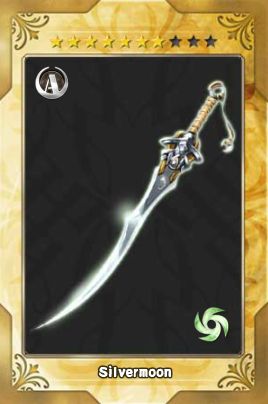 A Lua de Prata é uma espada de elemento vento, 7 estrelas, lendária de rank A e é forjada usando
Ferro
. É criada a partir da fusão de 3
Lâminas da Lua
, é vendida por 13000 moedas;um lucro de 11500 moedas retirando o custo dos materiais, e um lucro de 4900 sobre a venda de 3
Lâminas da Lua
separadamente.
Como todas as espadas lendárias, a Lua de Prata tem uma página de mangá que pode ser vista depois de salvar a espada na sua coleção. Nesta cena, temos uma mulher de cabelo azul-branco nua na água, provavelmente tomando banho. Com o canto do olho, ela vê alguma coisa. Ela cobre o peito com uma pequena toalha e pega uma espada, o que presumimos que seja a Lua de Prata. Neste ponto é revelado que o que ela viu era uma figura na água. As próximas duas cenas mostram um homem com cabelo castanho e com uma uma grande mecha branca na testa, vestindo aparentemente nada além de uma toalha ao redor da cintura. A imagem é ampliada para mostrar o seu rosto, mostrando um brinco na orelha esquerda, e uma expressão entre um choque leve e a confusão. A relação entre os dois é desconhecida. O fato de que seu primeiro instinto foi o de alcançar sua espada indica que 1. Ela não sabia que ele estava lá, e 2. Eles provavelmente não se conhecem muito bem. No entanto, o fato dele estar desarmado e de não ter uma expressão ameaçadora no rosto nos diz que ele não irá lhe causar nenhum dano. Talvez um futuro mangá ajude a lançar alguma luz sobre o que aconteceu antes e depois desta cena. Uma coisa a notar é que o homem do mangá é o mesmo homem do mangá da Anuladora de Feitiços.
Anexo - AP:18 DP:0
Ad blocker interference detected!
Wikia is a free-to-use site that makes money from advertising. We have a modified experience for viewers using ad blockers

Wikia is not accessible if you've made further modifications. Remove the custom ad blocker rule(s) and the page will load as expected.