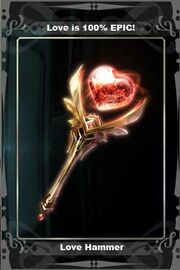 Obtained by:Edit
Completing Valentine decor set.
Makes a sword on the table be a 100% epic sword. 1 non-stackable charge every week.
This hammer is very valuable if material used for sword is expensive (Demon stone, Sacred Stone, etc.) or is very limited. This hammer is opposite to Magic Hammer.
Ad blocker interference detected!
Wikia is a free-to-use site that makes money from advertising. We have a modified experience for viewers using ad blockers

Wikia is not accessible if you've made further modifications. Remove the custom ad blocker rule(s) and the page will load as expected.