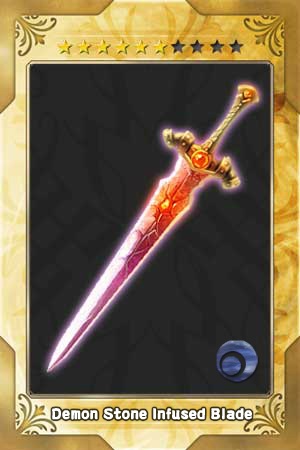 A Lâmina com Pedra-Demoníaca Fundida é uma espada demoníaca, 6 estrelas, lendária de rank A e é forjada usando Bronze. É criada a partir da fusão de 3 Lâminas Rúnicas, é vendida por 11,660 moedas; um lucro de 11,060 moedas retirando o custo dos materiais e um lucro de 6,950 sobre a venda de 3 Lâminas Rúnicas separadamente.

Sendo uma espada demoníaca, ela também pode ser usada para completar a Missão do Héroi 6
Como todas as espadas lendárias, Lâmina com Pedra-Demoníaca Fundida tem uma página de mangá que pode ser vista depois de salvar a espada em sua coleção. Neste cenário, encontramos um homem de cabelos vermelhos com um olhar maligno em seus olhos. No entanto, ele logo é ultrapassado por alguma força invisível. Incapacitado, ele faz o seu caminho lentamente em direção a sua espada, a Lâmina com Pedra-Demoníaca Fundida. Talvez a história de fundo por trás dessa cena é como o homem que fui tomado pelo desejo de poder, um desejo que a espada lhe deu. Finalmente, superado pelas energias demoníacas, ele foi deixado com nada a não ser a espada que lhe deu a força. A descrição do material da pedra demôniaca diz especificamente: "Pulsos de fortes más intenções são constantemente gerados a partir dela, tornando-se extremamente perigoso manusear, este material coloca o ferreiro em um risco constante de perder a sanidade.". Se a pessoa trabalhar com o material sozinho está em risco, então é compreensível que alguém que usa uma espada inteira que a contenha poderia acabar neste tipo de situação.
Uma coisa interessante a se notar é o recorte em forma de diamante na mão esquerda do homem. A julgar pelo terceiro painel, ele também pode ter tido a mesma marca em sua mão direita. Há também o que parecem ser outras cicatrizes ao longo da mão direita, bem como, quase um padrão em espiral em torno de seu braço. Poderia ser a espada não ser a única coisa que tinha pedra demôniaca embutida?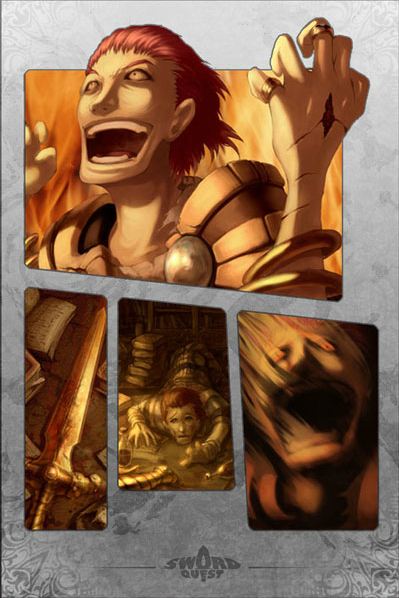 Ad blocker interference detected!
Wikia is a free-to-use site that makes money from advertising. We have a modified experience for viewers using ad blockers

Wikia is not accessible if you've made further modifications. Remove the custom ad blocker rule(s) and the page will load as expected.