Hyper Aço MA

Preço

10000 moedas

Minérios Necessários

1xHyper Aço MA

Espaço

9 mesas em 3x3

Tempo de criação

8 Horas

Espaço para fusão

9 mesas em 3x3

Tempo de fusão

40 horas

Qualidade Mínima para Fusão

22

Experiência de Martelar

+36 Exp

Bônus de Troféu

Oficina Lendária: +5 Qualidade
Hyper Aço MA é o 18º material disponível na loja. É desbloqueado para compra na loja no nível 30 e é um minério normal. Todos os minérios normais são comprados na loja por moedas e produzem espadas Classificação D e 3 diferentes espadas classificação C. Tem 10 espadas em sua coleção e é usado como um material de combinação para o nível 4 de materiais raros.
Lista de Espadas
Edit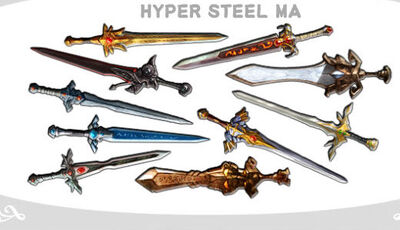 Ad blocker interference detected!
Wikia is a free-to-use site that makes money from advertising. We have a modified experience for viewers using ad blockers

Wikia is not accessible if you've made further modifications. Remove the custom ad blocker rule(s) and the page will load as expected.