Requirement:Edit
Level 1 in Fire Stone Mastery.
Description:Edit
"hey! I believe that puny fire coming out of your fire hammer can no longer satisfy you... Get enough firepower to ignite this hammer and it will be yours to keep! Who am I?! That's not important!"
Sword Required:Edit
    Or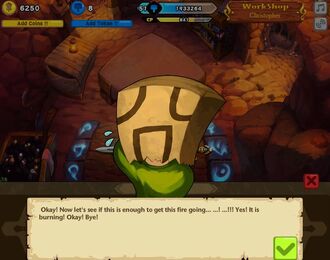 CompletionEdit
"Okay! Now let's see if this is enough to get this fire going... ...! ...!!! Yes! It is burning! Okay! Bye!"
Ad blocker interference detected!
Wikia is a free-to-use site that makes money from advertising. We have a modified experience for viewers using ad blockers

Wikia is not accessible if you've made further modifications. Remove the custom ad blocker rule(s) and the page will load as expected.