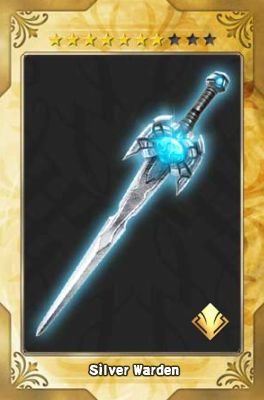 Uma espada do elemento Sagrado, 7 estrelas, Rank A. É uma espada Lendária feita de Prata.
Criada fundindo 3 Estrela de Prata. AP:12 DP:20
Como todas as Espadas Lendárias, ela vem com uma página de mangá.
Com a raiva da luta, o guerreiro percebe que ele ainda está em grande desvantagem numérica. Mesmo assim, a determinação nos olhos dele não será negada.
Nota: Seu capacete assemelha a de um espartano, o que, naturalmente, por si só, mostra que ele não teme quantidade de homens. Esse parece ser o herói da Missão do Herói # 13, que você pode ver que eles têm o mesmo lenço e mesmo tipo de armadura.
Ad blocker interference detected!
Wikia is a free-to-use site that makes money from advertising. We have a modified experience for viewers using ad blockers

Wikia is not accessible if you've made further modifications. Remove the custom ad blocker rule(s) and the page will load as expected.