<--Hero Quest 16 ~Hero Quests ~ Hero Quest 18 -->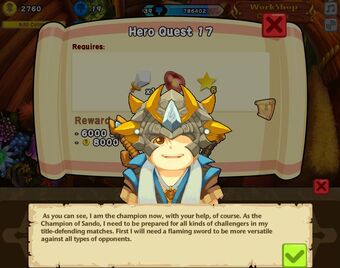 Received at Start: 3 Fire Stones
Description:Edit
"As you can see, I am the champion now. Wouldn't be possible without your help of course. As the Champion of Sando, I need to be prepared for all kinds of challengers in my title-defending matches. First I will need a flaming sword to be more versatile against certain types of opponents."
Requirement for Completion:Edit
A Fire Stone sword with at least 6 stars. The Rank-B Fire Stone swords will suffice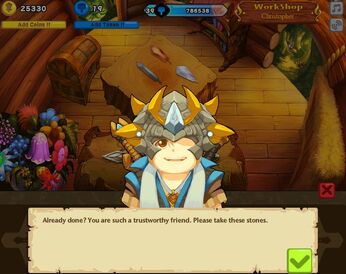 Completion:Edit
"Already done? You are such a trustworthy friend. Please take these stones."
6,000 EXP
8,000 Coins
3 x Level 3 Stones
Ad blocker interference detected!
Wikia is a free-to-use site that makes money from advertising. We have a modified experience for viewers using ad blockers

Wikia is not accessible if you've made further modifications. Remove the custom ad blocker rule(s) and the page will load as expected.