Fire Stone

Price

5,000 Avg from Black Market

Ore Needed

3 Fire Stone & 1 Mithril

Table Space

4 Tables in 2x2

Crafting Time

6 hours

Fusion Table Space

6 Tables in 3x2

Fusion Time

xxx

Minimum Fusion Quality

16

Hammering Experience

+24 Exp

Trophy Bonus

Volcano: +5 Quality

Max Sword Contest Points

1,014(C60, B78, A240
Fire Stone is the 11th material available in the Shop. It costs 6 tokens normally, or ~5000 coins to buy in the Black Market, there are ways to obtain this for free, as listed below, however you should not expect to make a profit off of this synth.
One advantage of the Fire Stone is that it gains a bonus at high temperatures. So you do not need to worry about overheating this sword.  You can help heat it up or ignore it.  In fact, even the Fire Stone Relic and Master Swords can receive this boost.  However, Divine Metal will not. Divine Metal, since its the base, will still get burnt, even with the Fire Stone there.

Ways to Obtain:
Ways to Obtain Mastery:
Random Chance at Location:
Sword List

Edit
Fire Stone Chart
Edit
Master Sword List
Edit
Fire Stone combined with: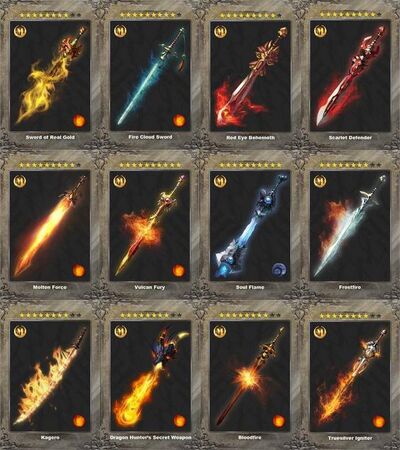 Ad blocker interference detected!
Wikia is a free-to-use site that makes money from advertising. We have a modified experience for viewers using ad blockers

Wikia is not accessible if you've made further modifications. Remove the custom ad blocker rule(s) and the page will load as expected.