Ferro

Preço

500 moedas

Minério Necessário

1 Ferro

Espaço Necessário

2 Espaços

Tempo de criação

30 minutos

Espaço para Fusão

4 Espaços em 2x2

Tempo de Fusão

12 horas

Qualidade Mínima para Fusão

8

Experiência ao Martelar

+4 Exp

Bônus de Troféu

Campo de Batalha:+3 Qualidade
Ferro é o terceiro material que você tem acesso no mercado(desbloqueado no nível 4).
Cada pedaço de ferro custa 500 moedas,e são necessários 30 minutos para forja-lo.
Ferro é tambem um otimo material para completar a Missão do Herói 6(Hero Quest 6), porque 2 das suas espadas raras são do elemento demoníaco (unholy-element),e são fáceis de conseguir.

Lista de Espadas
Edit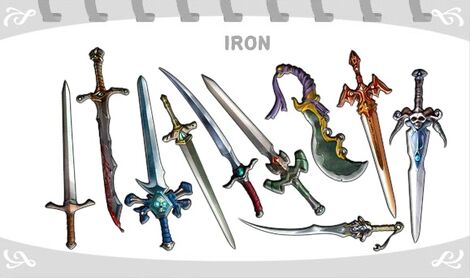 Criação com Minério de FerroEdit
Ad blocker interference detected!
Wikia is a free-to-use site that makes money from advertising. We have a modified experience for viewers using ad blockers

Wikia is not accessible if you've made further modifications. Remove the custom ad blocker rule(s) and the page will load as expected.