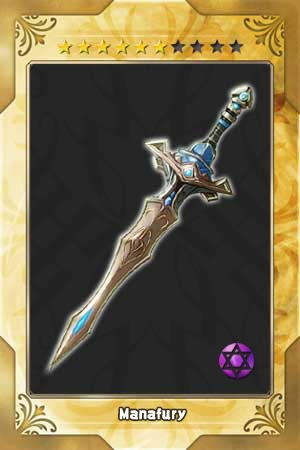 A Fúria de Mana é uma espada de elemento arcano, 6 estrelas, lendária de rank A e é forjada usando Bronze. É criada a partir da fusão de 3 Lâminas Mágicas, é vendida por 12,830 moedas; um lucro de 12,230 moedas retirando o custo dos materiais e um lucro de 6,560 sobre a venda de 3 Lâminas Mágicas separadamente.
Como todas as espadas lendárias, a Fúria de Mana tem uma página de mangá que pode ser vista depois de salvar a espada em sua coleção. Nesta cena, vemos a Fúria de Mana no chão diante de uma pessoa. A espada parece estar emitindo algum tipo de energia branca. No próximo painel, temos um olhar mais próximo da referida pessoa, que parece estar canalizando a referida energia em uma única massa na mão. A partir disso, podemos supor que ele está familiarizado com a utilização de poder mágico e é, portanto, um mago. O mago de cabelos verdes, em seguida, parece lançar um feitiço com o poder que ele tem agora, o que cria um redemoinho gigantesco no painel final, para surpresa da outra figura, de cabelos loiros (presumivelmente um guerreiro). As circunstâncias dessa cena são desconhecidas. Se o mago estava mostrando para o outro aventureiro, ou se o aventureiro trouxe a lâmina para o mago ver o que era capaz de fazer, não há a certeza neste momento.
Anexo - AP:13 DP:2
Ad blocker interference detected!
Wikia is a free-to-use site that makes money from advertising. We have a modified experience for viewers using ad blockers

Wikia is not accessible if you've made further modifications. Remove the custom ad blocker rule(s) and the page will load as expected.