Fênix é uma fusão a partir de Suzaku:
Mitologicamente, a Fênix é uma criatura lendária que pode reencarnar-se.
De acordo com o mito, ela constrói um ninho, e, em seguida, em um inferno auto-induzido produz um óvulo do corpo da ave anterior. Como tal, a este respeito, é imortal.
É também por isso que o mangá, talvez, mostra a espada em um inferno de lava ardente. Ap:20 Dp:24

Fênix, não surpreendentemente, é uma espada de fogo.
É a espada necessária para quest especial: Missão Absolutamente Impossível.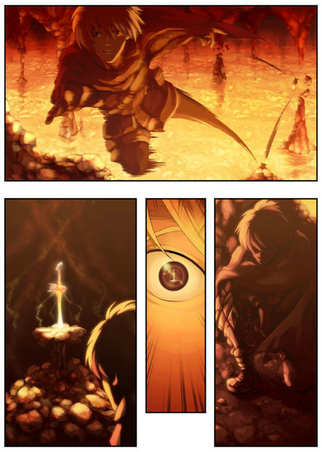 No mangá, você pode ver um homem saltando de afloramento para afloramento, evitando o que parece ser lava debaixo dele.
Finalmente, ele chega a terra firme no meio, quando ele vê o que ele está procurando.
A Fênix.
Você pode vender Fênix por 42.500 moedas.
Ad blocker interference detected!
Wikia is a free-to-use site that makes money from advertising. We have a modified experience for viewers using ad blockers

Wikia is not accessible if you've made further modifications. Remove the custom ad blocker rule(s) and the page will load as expected.