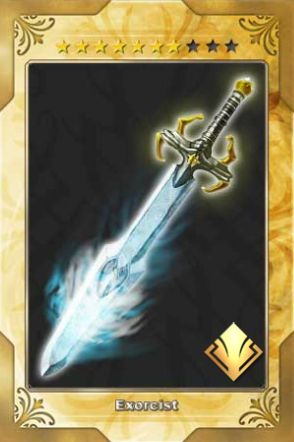 A Exorcista é uma espada do elemento sagrado, sete estrelas, Rank A e lendária. Feita de
Prata
. Ele pode ser criada através da fusão de três
Sino de Prata
. É vendido por 22.000 moedas.
Esta espada pode ser usada para a Missão do Herói #13.
AP: 28 DP: 8
Como todas as espadas lendárias, a Exorcista tem uma página de mangá que pode ser visto depois de salvar a lâmina na sua coleção. Neste cenário, encontramos um homem de cabelos negros dobrado e parece estar sentindo dor. No entanto, um homem loiro perto percebe que mais do que uma coisa está errada com essa pessoa e, como se vê, ele estava certo. O homem com cabelo preto de repente levanta novamente, sua pele mudou para um tom horrível de vermelho, e sua boca ficou cheia de presas. O homem loiro simplesmente desembainha sua espada, e se prepara para o inevitável.
Uma coisa interessante a se notar nessa cena é que este homem compartilha quase o mesmo símbolo em sua testa como o homem do mangá da Domínio. No entanto, a sua mais se assemelha a uma cruz, talvez insinuando uma afiliação com assuntos sagrados. Isso também explica por que ele poderia reconhecer os sintomas da posse, e por que ele também tem uma espada cujo nome aponta para uma capacidade de remover os demônios de uma alma humana. O tempo dirá se há mais com ele, e qual o propósito do símbolo. Sobre a cabeça do homem é o mesmo que a menina no mangá do Cruzado Escarlate.
Ad blocker interference detected!
Wikia is a free-to-use site that makes money from advertising. We have a modified experience for viewers using ad blockers

Wikia is not accessible if you've made further modifications. Remove the custom ad blocker rule(s) and the page will load as expected.