Uma espada Rank A de 9 estrelas. É uma espada Lendária de Diamante feita a partir da fusão de três Brilha-Brilha. Como toda espada lendária, vem com uma página de mangá.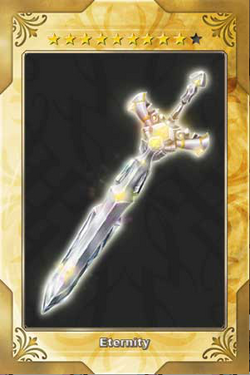 A pessoa (que é provavelmente a mesma pessoa, tanto na Promessa Pré-Histórica e na Nieves) coloca a espada em um pedestal no meio da chuva. Lá ele vai ficar ... por toda a eternidade.
Como você deve ter adivinhado, o nome 'Eternidade' representa a qualidade do Diamante, que é capaz de durar eternamente, como no provérbio "Diamantes são Eternos".
AP:42 DP:10
Ad blocker interference detected!
Wikia is a free-to-use site that makes money from advertising. We have a modified experience for viewers using ad blockers

Wikia is not accessible if you've made further modifications. Remove the custom ad blocker rule(s) and the page will load as expected.