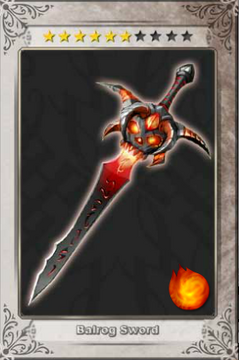 Feita a partir de Pedra de Fogo, é uma elemental de fogo, 6 estrelas Rank B, épica. É vendida por 9000 moedas. Tem um poder de ataque de 16, e uma defesa de 6.
Balrog é um demônio ficcional criado por JRR Tolkien. O Balrog é mais famoso pelo filme "A Sociedade do Anel".
Talvez se Balrog tivesse usado sua espada em vez de um chicote ele teria vencido.
Ele perdeu, lucro seu.
Ad blocker interference detected!
Wikia is a free-to-use site that makes money from advertising. We have a modified experience for viewers using ad blockers

Wikia is not accessible if you've made further modifications. Remove the custom ad blocker rule(s) and the page will load as expected.