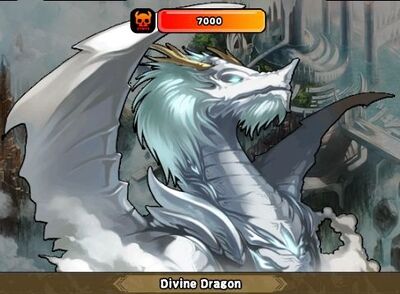 Divine Dragon is the 2nd Boss in Skyland.
It's best drops are 1 is the Peacemaker (10/45 Acc) & the other is the Musou Suit (38/38 Demonicblade Set)
Note*: If you are Wet, the Frost attack will cause you to become Frostbitten.  It's a divine dragon.  It doesn't need oil to burn you.
Ad blocker interference detected!
Wikia is a free-to-use site that makes money from advertising. We have a modified experience for viewers using ad blockers

Wikia is not accessible if you've made further modifications. Remove the custom ad blocker rule(s) and the page will load as expected.