*The 3/4/2014 Update removed the Daily Wheel from the game01This has been replaced by the Daily BonusEdit
The Daily WheelEdit
The Daily Wheel is a feature in Sword Quest that provides free coin, smith tokens or ores on a 24 hour reset basis.
The reset is at 6AM GMT, or for NA times. 2 AM Eastern, 1 AM Central, Midnight, Mountain, & 11 PM Pacific.
The Daily Wheel will provide you with the option to either play or skip. Skipping it will skip it for the day, and will not give you the option to play the wheel again until the next reset.
Regardless of the level of the wheel. Each will provide you with a chance to obtain 1 of the 4 level Materials, a Divine Metal, and a Smith Token. The only change is the monetary value increases.
The wheel has a range of coins starting at 500 SC(Sword Coins), 1 token, Level 1 ore, up to 30.000 SC(Sword Coins), 1 Smith Token, Divine Metal and Level 4 ore.
There are 4 levels of the daily wheel.
| Level | Requires |
| --- | --- |
| Lv 1 | Nothing |
| Lv 2 | Level 15 |
| Lv 3 | Level 40 |
| Lv 4 | Level 60 |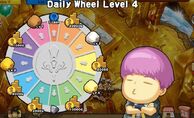 ---
The Friends WheelEdit
The Friends Wheel is another feature in Sword Quest that involves luck and a spinning wheel.
This wheel will only appear once per friend. Everytime a new friend plays Sword Quest, or you add a new friend who is already playing Sword Quest, this wheel will appear when you visit them for the first time.
The big differences between this and the daily wheel is that the friend wheel will only appear once, AND you can only win an ore. There is no money prize for this.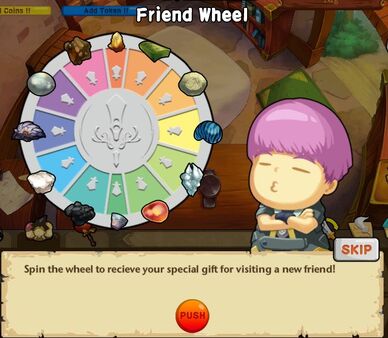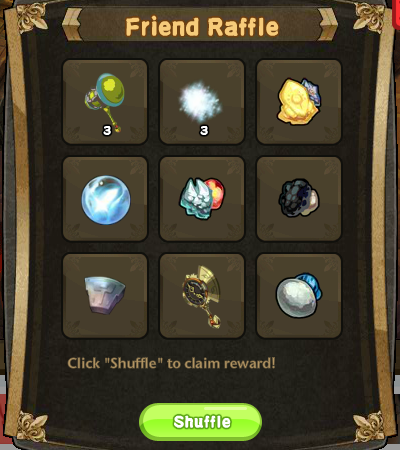 As you can see, you have a good chance at winning different levels of rare
Materials
None of the coin bought Materials are on this wheel.
.