<--Materials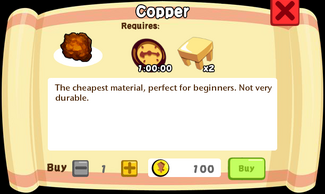 Copper

Price

100 Coins from shop

Ore Needed

1 Copper

Table Space

2 Tables

Crafting Time

10 minutes

Fusion Table Space

4 Tables in 2x2

Fusion Time

3 hours

Minimum Fusion Quality

6

Hammering Experience

+4 Exp

Trophy Bonus

Ancient Ruins: +3 Quality

Max Sword Contest Points

698(D5, C12, B38, A180)
Copper is the first material you can use to craft, and it will be the one you make the most.  Per hour, nothing can compare to what Copper makes, and its easy to do, fail-proof fusion is also a popular hit when you don't want to watch your crafts all the time.
Ways to Obtain:
Shop Price - 100 Coins
Random Chance at Locations:
---
Sword List

Edit
Copper Sword ChartEdit
Ad blocker interference detected!
Wikia is a free-to-use site that makes money from advertising. We have a modified experience for viewers using ad blockers

Wikia is not accessible if you've made further modifications. Remove the custom ad blocker rule(s) and the page will load as expected.