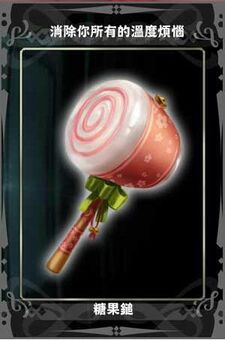 Obtained by:
Edit
Completing Candyland decor set.
Shields/ recovers any sword in any phase, 1 non-stackable charge every week.
Description:
Edit
This hammer can heal any temperature damage done to a sword and shield it. Whether it be Burnt or Froze, just hit your damaged sword once and it will be back to its perfect condition and will become shielded (same as shield hammer) for future temperature damage.
Note: This is the Candy Hammer, however I could not find an English version, so I used the Chinese version.  Same hammer, just different text.
Ad blocker interference detected!
Wikia is a free-to-use site that makes money from advertising. We have a modified experience for viewers using ad blockers

Wikia is not accessible if you've made further modifications. Remove the custom ad blocker rule(s) and the page will load as expected.