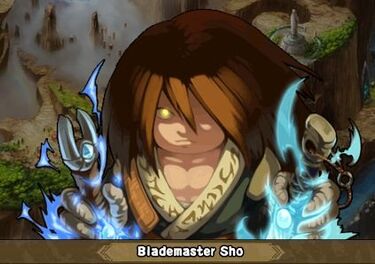 Blademaster Sho is the 3rd Boss in the
Canyon of Immortality
.
He also appears to make an apperance in Becoming The Storm and is holding Maple in his left hand, and Akatsuki-Arashi in his right. He also appears on the corresponding manga pages.
Note*: If you are Oily, getting hit by the Fire attack will cause you to become Burnt.
The Following Manga Pages He Appear:
Ad blocker interference detected!
Wikia is a free-to-use site that makes money from advertising. We have a modified experience for viewers using ad blockers

Wikia is not accessible if you've made further modifications. Remove the custom ad blocker rule(s) and the page will load as expected.