The Blademaster Set (Ambidextrous) is a 2 Piece set that you can earn in the Canyon of Immortality.  Both pieces drop from Blademaster Sho, the 3rd Boss. Alternatively, you can purchase it from the Adventure Store for a total of 1,700 Smith Tokens.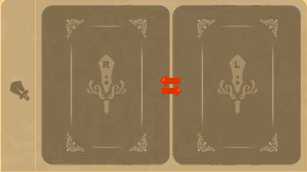 This is the 1st set you can get that gives you the ability to Dual Wield (looks like the picture). Dual Wielding lets you use 2 swords at the same time, however there is a catch to it.  First off, the armor set isn't that strong. Secondly, and more importantly.  The second sword is only at 50% of strength.  So its AP & DP will be halved. On top of that, the Element that the second sword has, if it has one, will not count towards your group element bonus, only the main sword equipped does.  All of that said, until you get into the harder zones this set is still useful as the 2nd Sword, especially if it is an Artifact Sword, even halved is still better than what the armor sets you can get are.
Like all 2 Piece Sets, 1 advantage is being able to assign whatever you want in the 3rd slot.  In this case, the Secondary slot is empty.  
This set now can multiplies the ADP of Master Swords by 1.35 of their original ADP.  
Blademaster Set (Ambidextrous)
Set Bonus
Dual Wield, 2nd Sword's Power is 1/2

AP+10 & DP+10

Equipped Master Swords have their ADP multiplied by 1.35

Total Attack Power
28
Total Defense Power
17
---

---

Ad blocker interference detected!
Wikia is a free-to-use site that makes money from advertising. We have a modified experience for viewers using ad blockers

Wikia is not accessible if you've made further modifications. Remove the custom ad blocker rule(s) and the page will load as expected.