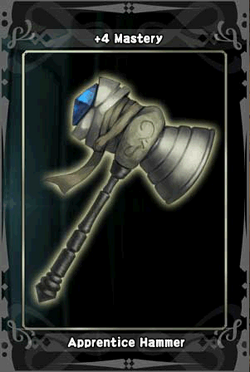 Obtained by:Edit
+4 mastery on the target material. Friend Use Only
Description:Edit
"A special hammer that lets you observe the subtle changes in the material you are working with. The result and effect of your every hammering is magnified for easier observation. More cost-effective when used on those really rare materials. Does not work with Divine Metal . Can only be used on a friend's sword."
NOTES:
This will add +3 Mastery to the stone you use this hammer to hit, however it will not add any Quality or boost to your friends craft. As such, please try to refrain from using this on a Fusion craft where they need the Quality to be successful.
Ad blocker interference detected!
Wikia is a free-to-use site that makes money from advertising. We have a modified experience for viewers using ad blockers

Wikia is not accessible if you've made further modifications. Remove the custom ad blocker rule(s) and the page will load as expected.