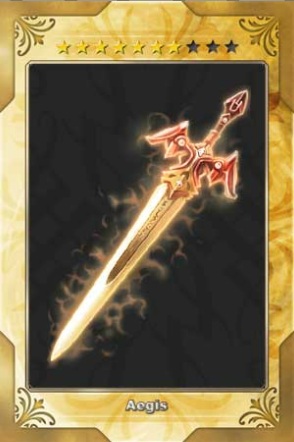 A Égide é uma espada de 7 estrelas, de Rank A lendária e é forjada usando
Ferro
. É criada a partir da fusão de 3
Defensoras
, é vendida por 12500 moedas; um lucro de 11000 moedas retirando o custo dos materiais, e um lucro de 5240 sobre a venda de 3
Defensoras
separadamente.
Como todas as espadas lendárias, a Égide tem uma página de mangá que pode ser vista depois de salvar a espada na sua coleção. Nesta cena, vemos uma grande bola de fogo inclinando sobre algo em um campo de batalha. Ela colide com o seu alvo, e as chamas se dispersam por todo o lugar, mas quando elas se apagam, ergue-se um cavaleiro loiro vestido com uma armadura vermelha, segurando à Égide. Supõe-se que o poder da espada o protegeu da explosão e possivelmente salvou sua vida.
Anexo - AP:8 DP:11
Curiosidades
Edit
Nos tempos antigos, uma Égide era um grande colar usado pelos romanos (religiosos ou não) para indicar proteção. Na verdade, diz o velho ditado que fazer alguma coisa "sob a égide de alguém" significava realizar a referida ação sob uma poderosa fonte de benevolência. Égide é também o nome dado ao escudo mágico de Zeus, que ele sempre emprestava à filha Athena para proteção. Neste contexto, faz sentido que a versão de Sword Quest tenha propriedades de proteção, é por isso que é criada a partir da fusão de três espadas chamadas "Defensoras". Os fãs do vídeo game Persona 3 também vão se lembrar do nome pertencente a um android, cuja única missão era proteger o personagem principal.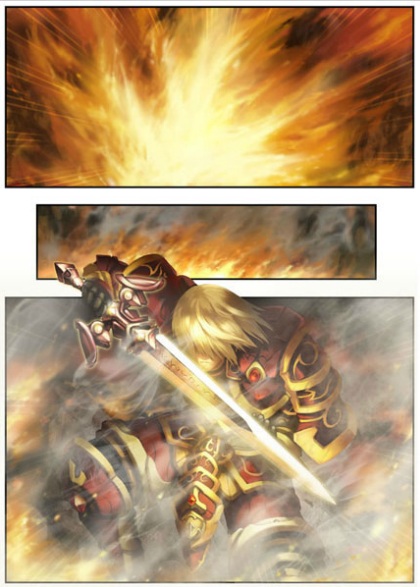 Ad blocker interference detected!
Wikia is a free-to-use site that makes money from advertising. We have a modified experience for viewers using ad blockers

Wikia is not accessible if you've made further modifications. Remove the custom ad blocker rule(s) and the page will load as expected.